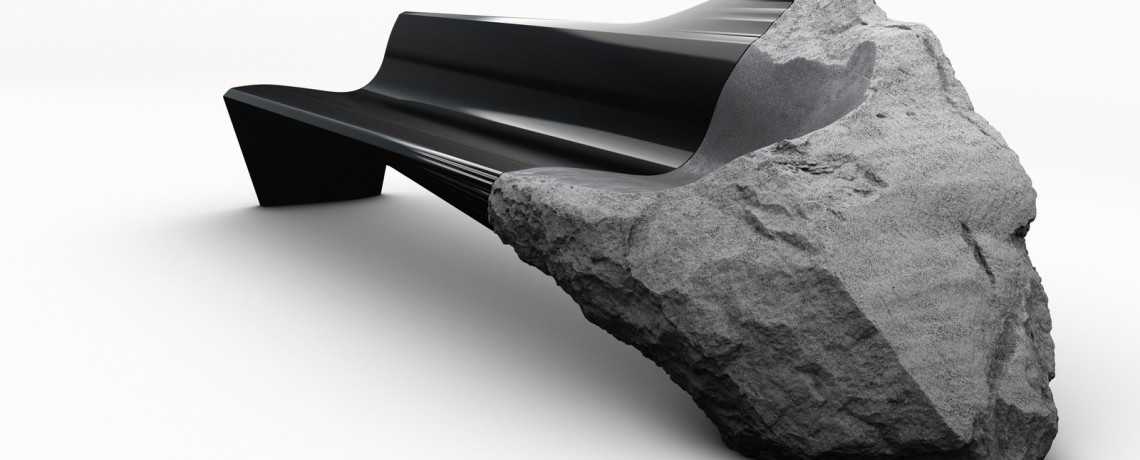 Sofa Onyx by Peugeot Design Lab for 135.000 Eur
The Sofa Onyx is a 3- metre long seat made of carbon fibre and Volvic volcanic lava stone made by Peugeot Design Lab as an example of unique creativity in furniture design.
For Gilles Vidal, PEUGEOT Styling Director: "Peugeot is one of the rare brands in the world able to claim 200 years of industrial creativity. Since its beginnings, Peugeot has designed and manufactured thousands of objects, whether for domestic, daily uses, or to provide mobility – objects for the kitchen, tools, bicycles, motorcycles, cars… – all of which are evidence of our multi-faceted industrial know-how and our ability to use new forms to aid function. With the Onyx sofa, we are drawing a thread between the Onyx concept car, an alliance of efficiency and the use of audacious and natural materials, and the Onyx sofa. By means of a sharp straight cut, this contrast is powerful, voluntary and assumed in the way we look at the materials and how they are used : the hi-tech carbon fibre with its very structured and technical texture, its shapes precisely adjusted to the volcanic stone with its texture & fault lines, perfectly adjusted in its dimensions and proportions, but with which one accepts not being in complete control, like the stonemason's random chisel marks."
Philosophy: The union, via a pronounced clear cut, between hyper-technological materials – carbon fibre, glass fibre, aluminium,…- and raw and natural materials – rock, wood, stone.
The Onyx sofa has become a demonstration of this, questioning the performance of materials, and with no antagonism between progress and nature, between ultra technological materials and raw and natural materials. The price of the ONYX sofa has been set 135,000 € for this version in carbon fibre/ Volvic volcanic rock. The prices for other creations will depend on the cost of the materials chosen by each client. It took a total of 70 days work to make.
SOFA Onyx as seen by Pierre Léonforté, journalist and design specialist
"The Auvergne, more than eleven thousand years ago, when the volcanoes were still active: eruptions, lava flows, until the fires went out. Grey, the Volvic stone would then spend thousands of years filtering the water from its source. Plastic, it obeyed the hand of man from the twelfth century. It is this stone, resistant to freezing and chemical products, that has been chosen for the ONYX sofa and the Peugeot Design Lab plays with its symbolism: robustness of the stone and the brand through their long history. As regards carbon fibre, a complex material that came from the aeronautical industry via motorsport, Peugeot was the pioneer in its use, including it in its competition bicycles from the eighties. By choosing a sofa, Peugeot Design Lab has produced a design exercise that is both vernacular and technological. A sofa three metres in length made of Volvic volcanic rock in a hybrid mix with lacquered black carbon fibre. Four hundred kilos of design that is terse, unique, exceptional, hand-made and improved by the digital dimension. A powerful monolith, provocative and mysterious, the ONYX, makes its mark as a distillation of the earth from nature, technology and the avant-garde. ONYX is the coupling of materials never tried before, sealed by an oblique cut. This highly pronounced slash had been introduced on the copper and carbon fibre bodywork of the ONYX supercar, the digital, technological and aesthetic references for the ONYX project. A furniture project that readily and audaciously opens all the possibilities to the expertise and skills of the Peugeot Design LAB, the ONYX sofa is the bearer of a strong styling signature and exceptional know-how. On the ground, wherever it will be sent in the world, each order will be a design challenge for the Peugeot Design Lab. Understand that each customer will have the freedom to choose "their" form: – a table, shelves, a lamp…, and "their" material. Each piece will then be a unique creation owing nothing to anything else. If produced in a small production run, each example will inevitable be different, accidents of nature ensuring this. It is this prodigious randomness that will steer the PEUGEOT Design Lab in its ambitious work travail on a line of furniture pieces entirely made to measure. Work that is guided by the very essence of raw materials and the grafting, invisible, of contemporary technology will never be overdone."
---